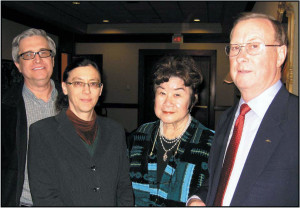 Below is a list of some recent topics and speakers who have visited the Wichita Committee on Foreign Relations:  
Domestic Consequences of Foreign Wars:  The Issue of Refugees from Ukraine and Afghanistan – Annie Pforzheimer, Center for Strategic and International Studies
The Realities of Dealing with Russia – Dan Lofton, retired CIA officer who focused primarily on countering the Soviet Union/Russia and former Warsaw Pact countries
The Czech Republic, the European Union and the Rise of Populism – Dr. Martin Nikola, independent scholar and Research Director at Democracy 2.1
Artificial Intelligence in the Global Balance:  Technology, Democracy, and Authoritarianism – Lindsay Gorman, Alliance for Securing Democracy
Brexit:  How Did It Come to This and Where Do We Go from Here? – James Hollifield, Wilson Center Global Fellow
Climate Change, the Energy Transformation, and their Impact on U.S. Leadership and National Security – Joe Bryan & John Morton, Atlantic Council Global Energy Center
Challenges of Making U.S. Foreign Policy Today – Ambassador Dennis Jet
The Implications of Peace Talks on the Women of Afghanistan – Palwasha L. Kakar, U.S. Institute of Peace
Restoring Public Confidence in U.S. Global Engagement:  Is It Possible – Nikolas K. Gvosdev, U.S. Naval War College
The Lessons of Iraq and the Future of U.S Foreign Policy – Michael Mazarr, RAND Corporation
The Migration Disconnect:  Why Central Americans Will Keep Heading to the U.S. – Stephanie Leutert, Robert S. Strauss Center for International Law and Security
The Atlantic Alliance and the Role of NATO – Michael John Williams, New York Univ.
Brexit and the Changing Environment In Europe – Jan Surotchak, International Republican Institute
Three Views of U.S. Trade Policy – Andrea Durkin, Center for Strategic and International Studies
Russia Friend or Foe – Stacy Closson, Kennan Institute
U.S.-Cuban Relations – Ambassador Vicki Huddleston